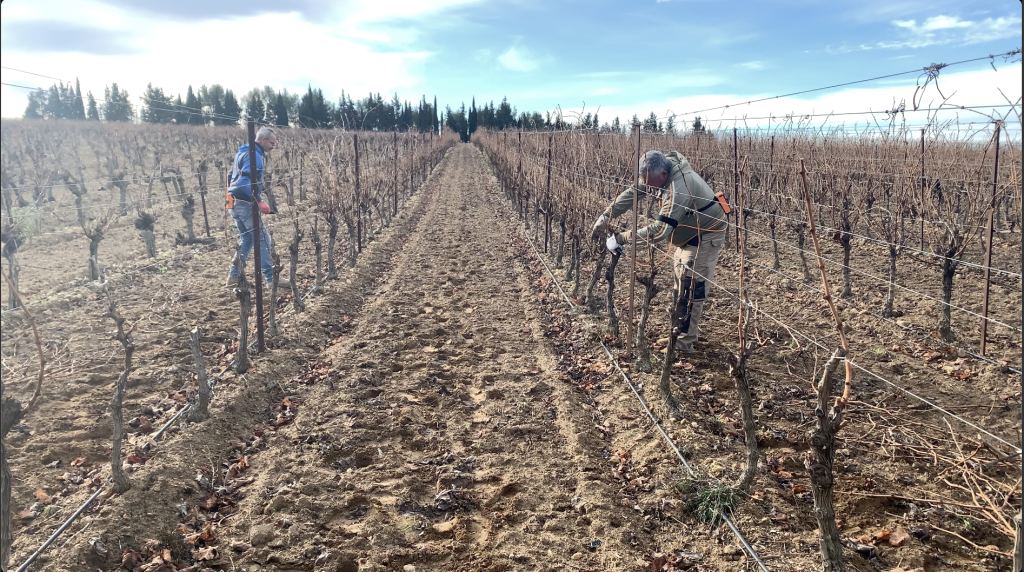 Are you interested in PRUNING vines ?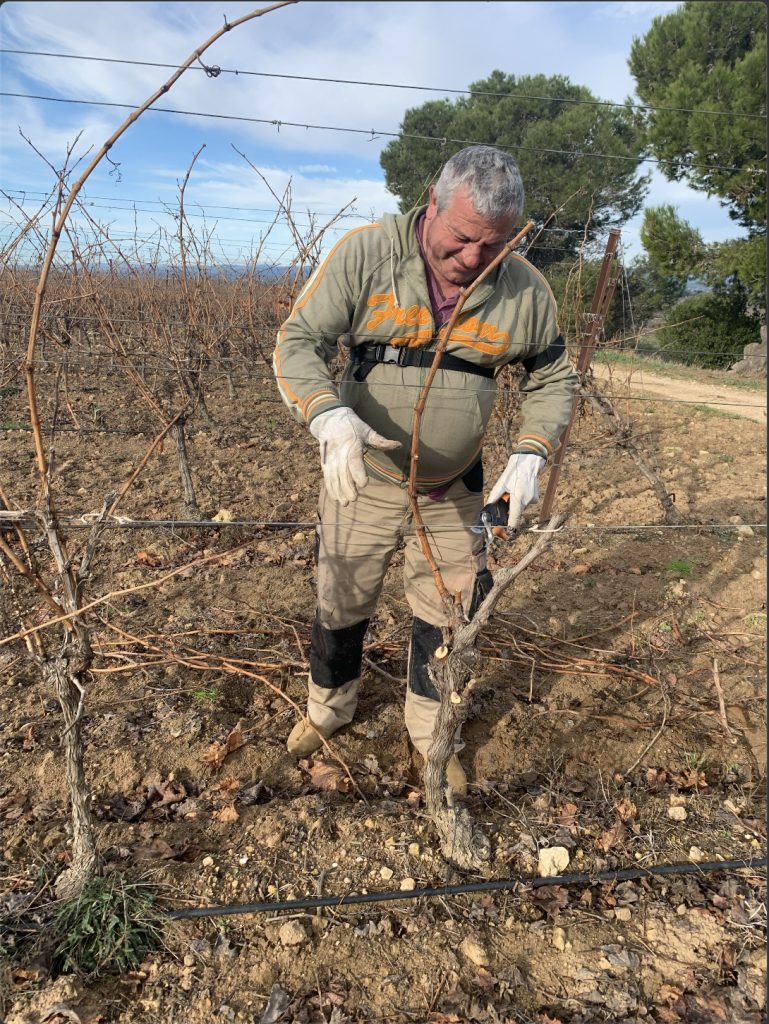 Few days ago, Franck, our manager, assisted by Antonio, started pruning our vines. This is an essential period for the winegrower. It will allow us to regulate the quantity of grapes per vine. We generally prune until March during the dormant period of the vine.

Moreover, it can also be pruned in summer, but more to eliminate the foliage overhanging the trellis and to free the bunches (trimming and topping). Pruning allows the old wood to be removed to make space for the new, more fertile growths.
Okay, but what's the point?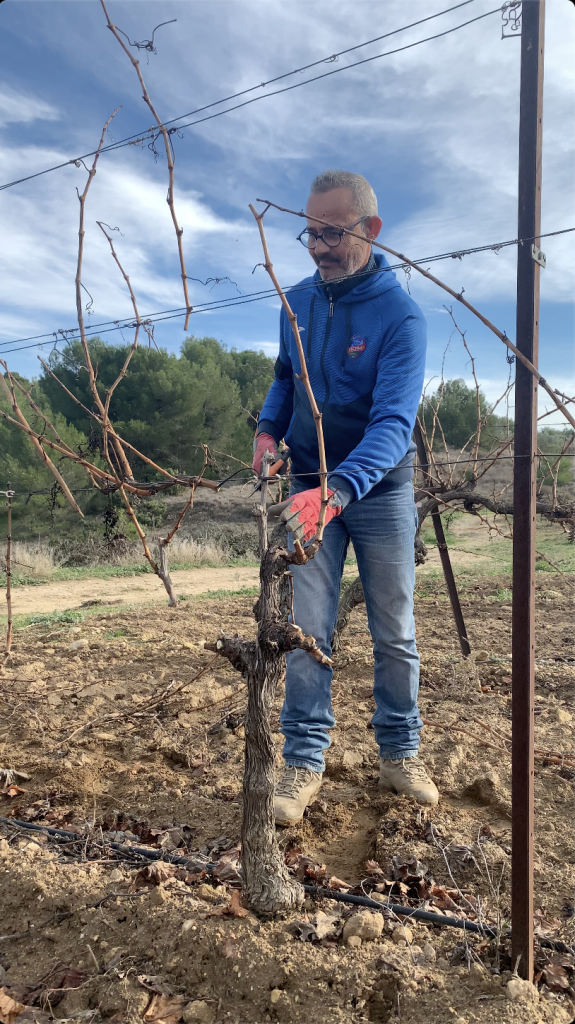 To be able to limit and control its growth! We will then be able to plan the quality and quantity of the future production of our vines. In order to optimise the growth of our vines as much as possible, manual pruning is essential. Nothing beats the eye of an experienced winemaker! Franck has been here for more than twenty years, so he knows the parcels inside out!

Especially as some of our plots are starting to get a few years old, especially our old Grenache Noir vines (60 years old this year) and our Carignan Noir (48 years old). It is important to take care of them! If you're in the area this summer, we're organising vineyard walks, and we'll be happy to give you more details!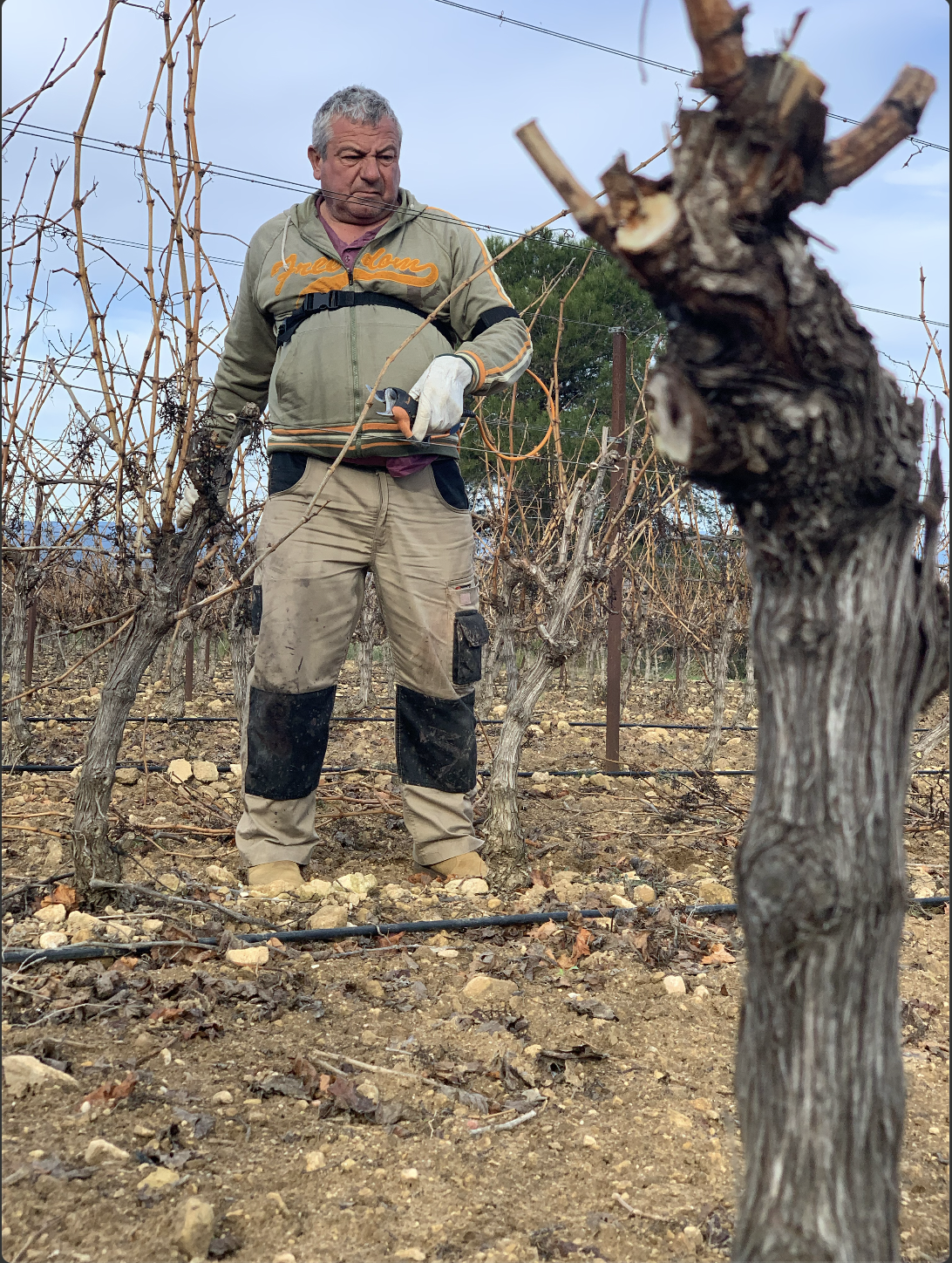 Now, what type of vine pruning to adopt?
There are 3 main types of pruning:

– The GOBELET
It is mainly found in the Mediterranean regions. In "Gobelet", only 3 to 5 vine shoots (also called "le bras") are kept on the vine. The vine shoots end in a spur of 3 or 4 buds. It has many variations depending on the region. For the Gobelet, there is no trellising. The vine is left to grow freely!

– The CORDON of ROYAT
For this kind of pruning, it is necessary to keep only 1 or 2 arms with 3 or 4 spurs each with 2 buds. It is used in many parts of the world, as it allows to keep a maximum of buds.

– The GUYOT (simple or double)
The Guyot pruning is to keep only the fruiting buds (which are fertile). The quality of the bunches is emphasised rather than the quantity. Production depends on the length of the cane and the number of buds. A rod is selected that can be between 6 and 12 buds long and is attached to a spur and a wire.

On the Soustres estate, we have adopted the simple Guyot pruning method. Generally only one spur is left, at the estate we leave 3 spurs because the vine produces low yields. This allows us to increase the quantity of the next harvest and guarantees us a quality production. Once the pruning is done, another step begins: Tying up!
See you soon to learn more about the Domaine de Soustres!
(PS: we made a real on Instagram and Facebook to show you in detail the pruning…)