Beautiful aromatic signatures
Domaine de Soustres grows seven different grape varieties for the production of white, rosé and red wines. The estate makes both single varietal wines and blends. The average age of its vines is 45 years.
Five of the varieties grown are widely planted in Languedoc Roussillon while the other two are very popular international varieties that originate from Bordeaux.
For the estate, the varieties grown are just as important as the terroir and the winemaking processes, as they are the source of the different aromas in a wine. They have been chosen, on the one hand, for their aromatic profile and, on the other, for their suitability for the climate and soil. The high location of our vineyards is favourable to their cultivation and their rich varietal aromas therefore show in the wines.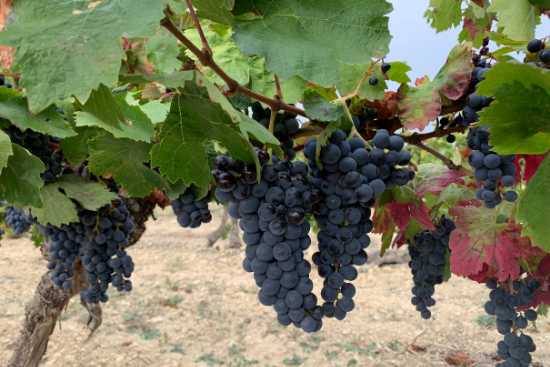 The Grenache Noir
Origin Spain
Grenache Noir, known in the past as Roussillon, is a variety that originates from Spain where its name is Garnacha Tinta. Nowadays, it is the second most widely planted grape in France. Used alone or with other varieties, it produces a beautiful aromatic profile, including notes of black cherry.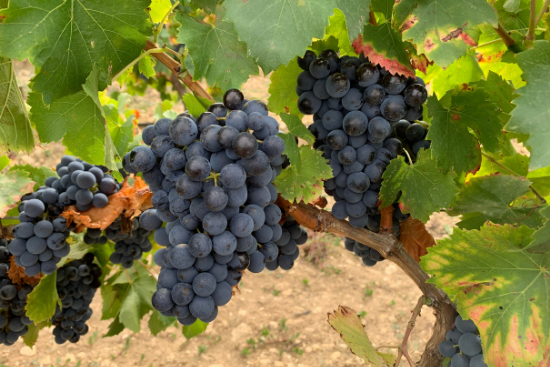 The Carignan
Origin Spain
Originally from Spain, the Carignan variety (nicknamed "hard wood" due to its very woody shoots), prefers warm winegrowing regions. Carignan is generally used in blends and brings power and complexity to wines.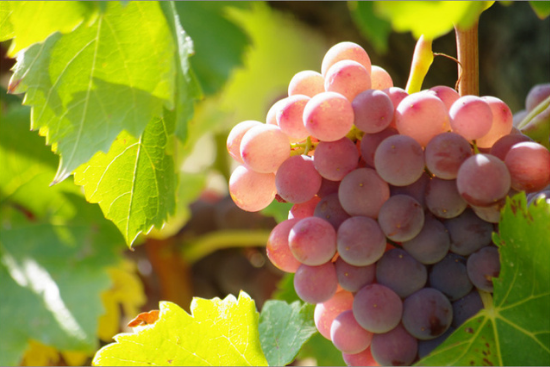 The Grenache Gris
Origin Spain
Grenache Gris is a mutation of the Grenache Noir variety, which also originates from Spain. Unlike the other varieties which have blueish-black coloured grapes, its berries are pinkish-grey. Wines made exclusively from Grenache Gris are generally known as "vins gris" and typically display mineral and almond aromas.
The Cabernet Sauvignon
Origin France
Cabernet Sauvignon is a French grape variety that originates from the temperate region of Bordeaux, though today it is grown in many winegrowing countries. Known especially as a component in blends, Cabernet Sauvignon typically produces blackcurrant and green pepper aromas.
The Syrah
Origin Swiss and France
Syrah is a Swiss and French grape, with origins in the Rhone Valley. Today it is grown in all of South of France. In Languedoc Roussillon, it is often blended with Grenache Noir. It brings a powerful character and a liquorice perfume to wines.
The Cinsault
Origin France
The Cinsault or Cinsaut variety comes from the region of Provence in France, and is nowadays widespread in Languedoc-Roussillon and the Rhone Valley. Often combined with Grenache and Carignan, it brings fruity aromas and supple tannins to wines.
The Merlot
Origin France
Originating from South-west France and the Bordeaux region, Merlot is the emblematic Bordeaux variety, now grown almost all over the world. Used mostly in blended wines, it brings roundness and red fruit aromas to wines.