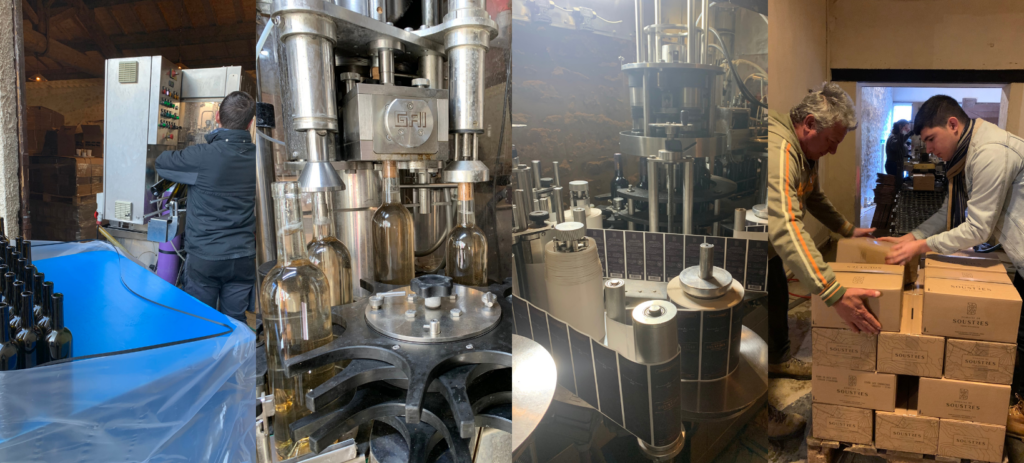 The bottling is done!
Episode 2 : D-Day   
The D-day has arrived!
Once the wine is filtered, the bottling can begin!
The empty bottles are placed at the beginning of the line where the wine will arrive at the filler and fill the bottles. The bottle is then corked with corks adapted to each of our wines. For this 2021 bottling, we have opted for technical corks that are guaranteed without TCA, the molecule that gives the bad "cork taste".
The packaging of the bottle will be added: the capsule, the label and the back label. Then it is put in the packaging, boxes of 6 bottles, personalized for each wine. The boxes are then placed on a pallet and put in stock before being put on sale.
Continuous monitoring
All operations are controlled by a bottling manager, Philippe (Sté les Artisans de la Mise en Bouteille). He will make sure that the line is working properly and that everyone in the team is involved. He supervises the settings and checks the supply of dry materials. To ensure the proper functioning of the line, a minimum of 5 peoples is required. For example, for the cardboard boxing, no less than 2 people are needed to keep up the pace !
A little rest before departure
The wines are bottled and rested, stored in a cool place in the cellar for a few days before their departure to the sales outlets and the cellar. Indeed, all this agitation destabilizes them a little ! It will be necessary to wait one month for the whites and the rosés and two months for the reds so that they find their peace and begin to give the best of their character.
You can find the new vintages on the store of our website, or directly at the cellar!